29 June 2018 | Article | anonymous
SG Team chafes for charity
Chafing for Charity is the story of three individuals from SG who collectively, had limited to no race experience in the Triathlon scene. The goal was simple—complete the Ironman 70.3 race and in doing so, raise a minimum target of RM12,000 to support the work that UNICEF Malaysia undertakes to protect the rights of every child.
The challenge took our members of the team to Da Nang, Vietnam where Richard Prentice (Chief Operating Officer), Michael Gearing (Regional Client Account Director), and Zander Liew (Regional Client Account Manager) were tasked with completing a 1.9km ocean swim, a 90km bike course, and finally a 21km run.
Giving is about making a difference
Against a backdrop of ocean currents, steep hill climbs, and the threat of severe chafing, our belief here at SG stood firm—that few things are more important than protecting and nurturing children. Having been a longstanding partner of UNICEF Malaysia, we've been able to witness the difference the organization is making for vulnerable and disadvantaged children in the region. Violation of basic rights remains a serious concern which makes it imperative for all who can, to continue to contribute to the efforts of breaking this cycle.
Removing the day-to-day administrative burden to empower our partners to focus on their causes is what drives us. That's why the team offered no small incentive of wholesale lifestyle changes to encourage those around them to donate to the cause. The suffering faced during race day and prior training such as substituting weekend lie-ins with early morning bike rides were incomparable to the reality faced by many underprivileged children.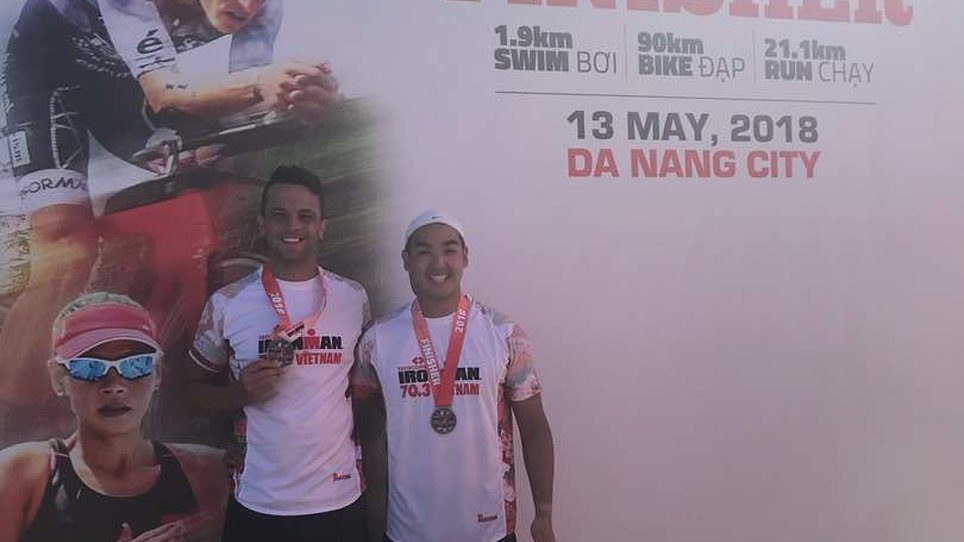 SG family bands together in support
The response to the campaign exceeded expectations as members of the SG family helped push the campaign towards its target. Contributions flowed in from headquarters to regional offices, all the way from Korea to France played their part in championing the cause.
"We are truly humbled by the amount of support we've received from friends, family, and colleagues," said Richard. "To get behind the cause and support our partners UNICEF Malaysia towards the work they carry out will impact the lives of children in more ways than you could imagine."
Returning to Kuala Lumpur with mild sunburn, aching muscles, and their finisher medals, the team proudly presented a cheque totaling RM13,039 to Marianna Clark-Hattingh, a representative for UNICEF Malaysia at the organisation's office.