7 September 2018 | Article | anonymous
Meet the backbone of our operations: CharitABLE
We are proud to introduce CharitABLE, our new donor database management program.
CharitABLE, the brainchild of SG Global, is a cloud-based application designed to help us manage donors on behalf of our charity partners. It serves our business needs from processing donations, reaching out to existing and new donors, making financial reports, to delivering timely donor communication materials.
Our legacy softwares had served us well for many years, but our rapid expansion into new countries means there needs to be a more comprehensive program to give us the necessary boost in our operations. CharitABLE is our answer to that issue.
What we can achieve with CharitABLE (the non-comprehensive version)
Respond to business requests more effectively
CharitABLE is much faster and efficient at answering our business needs. The same process that would previously require several hours to be completed can now be done concurrently in a fraction of the time it previously took. This increases our efficiency in meeting the needs of our clients, be it delivering data analyses or offering business intelligence.
Provide added value to our clients
One of the proudest features of CharitABLE is the added value that we provide to our clients on top of our existing services. Among the many is the concept of constituency that comes with CharitABLE. To put it simply, donors will no longer be tied to their names alone – leaving room for charities to build their database without the presence of a gift.
Give our clients more control over their donor database
CharitABLE makes our business processes all that more transparent and accessible to our charity partners. They can now interact with their data directly and get assurance for themselves that we are fulfilling our obligations to them.
A brief history of CharitABLE
The quest to build an intuitively simpler yet more powerful application for our business began several years ago. We saw concrete progress when our Software Development team began working on a project that would eventually become CharitABLE.
Improvement and innovation were key features of the project and it took nearly nine months for the team to study the processes that underlie the legacy softwares. This meant optimising and re-engineering the unique ways each department in each country that SG operates in works and painstakingly turning it into a standard operating procedure (SOP) for all offices.
Coding then started from line one. The project was built from scratch, borrowing none of the technologies of the legacy softwares. Now, two years later, CharitABLE is finally fully operational in our headquarters in Kuala Lumpur as well as our new office in Taiwan. We expect to roll it out in several more countries by the end of 2018.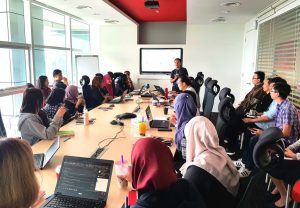 Onward to new adventures
Things have been looking up ever since we first introduced CharitABLE to the rest of SG. Hiccups are, naturally, inevitable as everyone gets acquainted with a new application with streamlined processes and improved functions. However, deployment has been progressing as expected and the odds are looking good for CharitABLE to be a firm but malleable backbone of our operations.
If you are curious how we can use CharitABLE to help you optimise your charity's donor database, drop us a message here. Likewise, you can also find out what makes us your ideal charity partner in the region here.