14 October 2021 | Article | Gabrielle Gean
3 Ways to Supercharge Your Digital Donor Acquisition
Over the years, nonprofits have embraced digital channels as a supplementary means to fundraise. However, as the pandemic hits the world, the importance of digital acquisition became more apparent than ever. Thus far, we've seen repeated successes, from virtual fundraising galas to new and innovative campaigns on social media.
We gathered three of our favourite methods that demonstrate how online fundraising can be flexible, adaptive, and borderless, making it a highly useful tool for nonprofits like you to take your donor acquisition plans to the next level.
Reminder! Ensure to optimise your online donation page when embarking on your digital acquisition journey.
1. Social Media Campaigns
Leveraging on dance as a universal language between humans, the United Nations International Fund for Agricultural Development launched a TikTok dance challenge, #danceforchange, in 2019 to encourage young people to join the dance petition and spread awareness of world hunger in developing countries.
Issues like global hunger, poverty, unemployment, and other obstacles that young people in developing countries face were highlighted in the most upbeat way. As a result, almost 5,000 people around the world showed their support by joining the dance challenge.
However, launching an effective social media campaign is easier said than done. Here are some tips for you to get a head start:
Know your audience – Take time to understand your audience – where they spend their time on, how they like to engage with brands online, how they perceive you – these should be the foundation of your social media plan. Once you've done so, you can start strategising your approach to reach them, and deciding which platform and type of content you will focus on.
Customise your content – Even if promotion works by repetition, posting the same content on different social media platforms can make the audience feel like you're not putting in enough effort to engage with them. For instance, platforms like Instagram focuses on visual content, whereas Twitter is a place for short, witty engagement. Every touchpoint is a potential opportunity for you to interact with your audience, so make sure to explore and constantly experiment for best engagement results.
Be bold, be you – Let's face it – the online world is a very noisy place. What truly helps you differentiate yourself from the sea of urgent appeals is allowing who you are and what you stand for to shine through. Don't hesitate to let your vulnerability and needs come through in your communication. As long as the appeal is genuine, that's all that matters.
Be clear of what you need people to do – After doing your best to convince people to help you, give them a clear next step. If your objective is to get people to share your message, then make it unmistakable. If it's to get donations, then say so without any apologies. The worst thing is to leave your audience hanging without giving them the opportunity to take any action.
2. Partner with Businesses 
With the rising demand of Corporate Social Responsibility (CSR) as a business obligation, many businesses have opted to allocate resources (in the form of budget or manpower), or contribute a portion of their profits to charities. This is a stable and profitable revenue stream that nonprofit organisations need to seriously consider and take advantage of to advance their fundraising mission.
Take the example of collaboration between Madewell, a clothing company and Surfrider Foundation, an environmental nonprofit where they launched a limited collection of eco- and beach-friendly products that are made from recycled materials.
Surfrider Foundation's mission is to protect coastlines and beaches around the world, and Madewell helped raise the awareness by including the slogan on the product which says, "Long Live the Beach".
The result is a win-win situation: Madewell profited from brand loyalty, while Surfrider Foundation benefits from the awareness gained and revenue of product sales.
As a nonprofit, you can approach a company whose goals and values are similar to yours with these tips in mind:
Know what you look for in a partner – Are you looking for a collaborator, or are you looking for someone to fund your mission? Make the level of involvement that you're looking for clear right from the beginning. Also be wary of compromising your values and desires for the sake of securing a partnership.
A partnership has to feel natural – If you're a children education nonprofit, it would make sense to partner with a toy or book company, but it'll be harder for consumers to make the connection if you were to partner with say, a cosmetic company. When your nonprofit and partner organisation share a similar ecosystem, your partnership will have momentum to sustain for longer.
Get on the same page – Be deliberate in your vision for the partnership, as well as your ultimate goals for particular programmes and projects. Take the time up front to establish shared and non-shared goals. The goals don't have to be a 100% match, but there must be common interests and mutuality from both parties for a partnership to last.
3. Influencer Marketing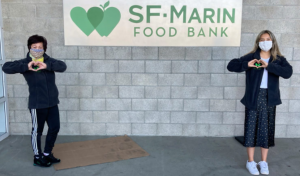 Click on the image above to read how SF Marin Food Bankers handled the devastating blow of COVID-19 on the community.
As we've all experienced, a simple endorsement from our peers could get us parting with our money faster than any high-budget advertising. Similarly, when it comes to influencer marketing, businesses have successfully used the power of influencers to bridge the gap between a brand and individuals.
We can all name an influencer whose recommendations we'll trust without any questions, right? Likewise, when it comes to fundraising for nonprofits, picking the right influencer to support your cause could really help to further your fundraising mission by striking distance.
Aside from Emma Watson, who is a UN Women Goodwill Ambassador, one of our other favourite examples is San Francisco-Marin Food Bank who recruits micro-influencers, such as mommy and food bloggers to endorse their programmes.
Their campaigns worked brilliantly because the influencers engaged are real people who genuinely care about keeping their kids or themselves healthy, and thus they're able to talk about the programmes in the most personal and authentic way. As a result, San Francisco-Marin Food Bank gained both followers and regular donors.
If you're planning to engage influencers, consider these:
One goal at a time – Get clear on what you really want to achieve. Are you trying to reach new demographics? Recruit volunteers? Or raise funds for a particular campaign? For each goal, consider how the influencers can specifically help you. What's worse than not having any reach is having multiple messages reaching the general public.
From the inside out – Apart from being very careful in selecting the right influencer to represent your nonprofit (background/content/engagement/follower check!), you'd also want to find someone whose values align with your nonprofit's mission and image. An influencer who's personally invested in your cause would go the distance to help you get heard and the content will come across as far more genuine. Who knows, they may have already formed a large community whose values match your mission.
Consider your own employees – Who else better to tell the behind-the-scenes stories than the people who live and breathe the mission? These are the people who can help bring out the most authentic side of your nonprofit work on a grassroot level. Sometimes the simplest and most unsophisticated content can be extremely powerful and impactful. In return, compensate or reward your employees for the extra work they put in to promote your organisation on their own platforms.
Use data to optimise your plan – Perhaps one of the best things about raising funds digitally is that you get performance feedback a lot sooner than other fundraising methods. With the availability of real-time analytical tools, you can make data-backed decisions in tweaking certain variables to help your campaign work better. Watch this video to learn more about how digital fundraising works.
Conclusion
Every element of your campaign has a role to play – whether it increases awareness, engagement, or conversion. And a combination of each objective contributes to your nonprofit experience, which increases the ability to raise funds. Yes, digital donor acquisition may involve a lot of work but it's absolutely worth it because it improves long-term sustainability in your organisation. So, start planning your digital donor acquisition campaigns and don't forget to keep these strategies in mind.